We've decorated the house.
We've stocked the fridge.
We're getting ready to travel over the river and through the woods.
Here in Happily Ever Johnson Land, we're ready to welcome Thanksgiving!
I enjoy making a big deal over Thanksgiving as a family.
What better way to prepare for Advent than to begin with grateful hearts?
Here are a few of our plans to help make this week extra special, in a thankful sort of way.
*
What we'll be making:
This is now a three year tradition in our family. Each year they are a little different and always special. E-Bear has already asked when we'll make our Thankful Turkeys and what they'll look like this year. We'll see.....
~Pilgrim napkin rings~
A gift from MoMo, these cute napkin rings are from
Paper Source
and will be a fun addition to the Thanksgiving table. The kids can't wait!
*
What we'll be cooking:
I am so excited to contribute to Thanksgiving dinner! Hopefully, we'll give J-Bear her first meal too.
Just like Grandma Cookie used to make.
The Pioneer Woman recipe that can't be beat
Brussels in bacon is a delicious combination
A technique that is so easy and so delicious.
*
What we'll be reading:
~Bear Says Thanks, by Karma Wilson~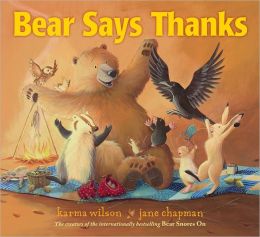 This is a sweet rhyming children's book, reminding us to be
thankful for others and eager to give in return.
Have a wonderful Thanksgiving week!